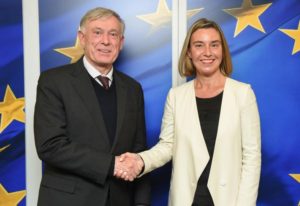 The revival of the UN-sponsored peace process for Western Sahara was at the focus of a meeting in Brussels on Tuesday between High Representative of the European Union for Foreign Affairs and Security Policy, Federica Mogherini and the Personal Envoy of the UN Secretary-General for Western Sahara, Horst Köhler.
"Ms Mogherini underlined the EU's strong support for the UN renewed efforts, in the spirit of the recent UN Security Council Resolutions, and in particular the latest UNSC resolution of 28 April 2017, to help put an end to this long-standing conflict and achieve a just, lasting and mutually acceptable political solution that will guarantee the self-determination of the people of Western Sahara through arrangements consistent with the principles and objectives of the Charter of the United Nations,"  reads a statement posted on the EU website.
Federica Mogherini believes that a final peace agreement would benefit not only the parties to the dispute, but also all the countries in the region as well as the EU, the statement said.
The European Union has long called for increased regional cooperation and would willingly explore with all stakeholders ways to promote regional and cross-border cooperation to strengthen regional development on the Mediterranean shores.
The EU's backing to a definitive political settlement of the thorny issue of Western Sahara is explained by the fact that Morocco is considered in Brussels, as a great, reliable ally and a strong partner on the Mediterranean southern shore.
The North African Kingdom is the only Mediterranean country with which the EU has concluded an Advanced Status since 2008.