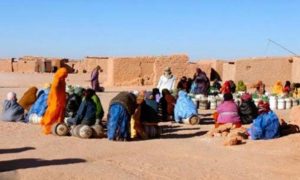 Algerian authorities have rejected visa applications made by activists of the Euromed Rights NGO who wished to investigate the situation of rights and freedoms and the reported violations committed by the Polisario torturers in Tindouf camps in southwestern Algeria.
Following this rejection, the European NGO, which was authorized by Morocco in September 2014 to carry out a similar mission in the southern provinces of the Kingdom, "deeply regretted" the Algerian authorities' refusal, and noted that "Algerian authorities have interfered in a situation that does not concern them."
In a statement posted on its website on Wednesday, EuroMed Rights said its mission in the Tindouf camps was prepared in coordination with the so-called "Sahrawi National Human Rights Commission" (CONASADH) and would have provided an opportunity to enter into direct contact with individuals, whether witnesses or victims of possible human rights violations.
The NGO said it unsuccessfully attempted to obtain visas from the Algerian authorities twice over the past few months. On the third attempt, when it seemed that visas had been granted to all of the delegation's members, the Embassy of Algeria in Brussels stated that all visas granted had been cancelled, barely ten days before the date of departure. To date, the Algerian authorities have not sent a letter containing the explanations that had been promised, the NGO said.
EuroMed Rights finds it "deeply regrettable that the Algerian authorities have impeded this investigation," and deplores that "it will therefore be unable to verify the actual state of rights and freedoms in the refugee camps and investigate the allegations of human rights violations of which it was informed," says the document.
The Algerian government imposes a strict blockade on the Polisario-run Tindouf camps and bans access there except for the NGOs and activists that support the Polisario's separatist theses and Algeria's geostrategic interests.
The same goes for the Census of the people settled in these camps, despite the repeated requests made by UN agencies, mainly the High Commissioner for Refugees. But to date, the Algerian authorities continue to reject the census idea out of fear that the overestimated numbers of the populations it always advances are demystified.