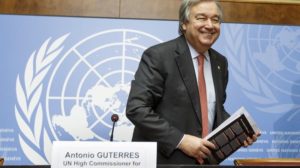 The UN General Assembly endorsed on Thursday the Portuguese Antonio Guterres as the new UN Secretary General who will succeed Ban Ki-moon.
Antonio Guterres, who had been picked by the Security Council, will take up the position as of January 1st 2017. Guterres's appointment was greeted worldwide but was unwelcome by Algiers and the Polisario. Why? For the simple reason that Guterres is considered a "great friend" of Morocco.
UN Member States confirmed by acclamation the appointment of the former Portuguese Prime Minister, whose selection was approved on October 6 by 13 members of the Security Council, including the 5 permanent members.
Antonio Guterres is thus the 7th person to occupy the post of UN Secretary General for a renewable five- year term. The former United Nations High Commissioner for Refugees (UNHCR) was chosen by the Security Council among nine other applicants.
The list of the other candidates featured the Director-General of UNESCO, Irina Bokova (Bulgaria), Helen Clark, former Prime Minister of New Zealand and current Director of the UNDP, the European Commissioner Kristalina Georgieva (Bulgaria) and the Argentinian Foreign Minister Susana Malcorra, former Chief of Ban Ki-moon's office.
Former President of Slavonia, Danilo Türk, and former Deputy Prime Minister of Montenegro, Igor Lukšić, were also in the race.
The UN-sponsored negotiation process seeking to settle the Western Sahara issue, which has dragged on for so many years, ended up in a deadlock under the mandate of Ban Ki-moon and his personal envoy for the Sahara, former US ambassador to Algiers, Christopher Ross.
There is hope that the appointment of a new UN Secretary General, who will surely name a new envoy in the Maghreb region, would dust off the dossier and put the negotiation process back on track.
Besides, in case of victory, the Democratic candidate for the US presidency, Hilary Clinton would facilitate the task to Guterres, given the excellent relations she has with the Kingdom of Morocco and the weight of her country in the United Nations forums.