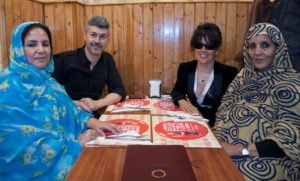 The so-called parliamentarian of the Polisario and Vice-President of the pan-African parliament, Souilma Beirouk, who was traveling with an Algerian diplomatic passport, arrived Monday in the airport of Marrakesh, saying the purpose of her visit is to participate in COP22. The problem is that she had no invitation. So the passenger was sent back to Algeria, where she came from.
Souilma Beirouk wanted to be present at the COP22 in Marrakech as a Polisario executive to create disorder, as she did lately in Egypt, but it was without counting the vigilance of the Moroccan airport security services.
When Moroccan security agents realized that Souilma Beirouk was not formally invited to the World Conference in Marrakech, they refused her entry in Morocco.
Morocco's Permanent Representative to the UN in New York, Omar Hilale, confirmed that Beirouk was not on the COP22 guest list.
The Polisario envoy spent the night at the Mohammed V airport in Casablanca, before she boarded a plane heading to Algeria.
The Polisario leadership is used to infiltrate its pawns in such meetings with the help of Algerian agents and diplomats. They are usually entrusted with drafting reports on the debates and the presentations made by participants. These reports are used by the Polisario to eventually prepare counter-offensives.
When asked on Souilma Beirouk's expulsion from Morocco during the daily press briefing Monday, Ban Ki-moon's spokesman Stéphane Dujarric, said cuttingly, "I have no information on this."
He later told the journalist, off the record, that Beirouk was simply not accredited by the UN to take part in the COP22.