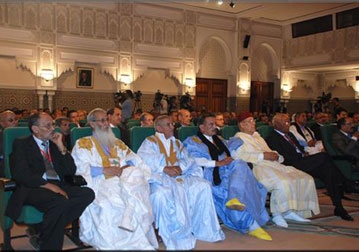 A new group of 17 persons has just returned to Morocco escaping the sequestered conditions in Tindouf camps, in Algeria, raising thus the number of rallies to about a hundred within one week, and constituting a real hemorrhage for the Polisario and the Algerian militaries.
The 17 rallies, persons aged 20 to 56 years old, have arrived Sunday 4 April to Laâyoune. They have escaped Tindouf camps, defying the danger of being, at each moment, intercepted by the Polisario elements and the Algerian militaries. They have finally arrived to the front post of Guergarate, in the far South of Morocco.In fact, it is a waste of efforts, as thousands of the sequestered in these desert camps are on the lookout for the slightest occasion to return to Morocco.
For Mohamed Taleb, the Secretary General of the Sahrawi human rights defenders league, 6 to 7 persons escape camps and arrive each day to Morocco. Members of this group, to be added to the other 74 persons having recently returned to Morocco, have declared that Tindouf camps live under a real state of siege. The Polisario and the Algerian militaries have been more vigilant in order to try to prevent the hemorrhage. These rallies « arrive to Morocco either by their own means via Mauritania, or by directly crossing the wall, even if they expose themselves to enormous dangers. Others, possessing a Spanish residence permit, can easily return to Morocco", he explains.
Ahmed Khor, a former member of the Polisario, states that the increase of evasions from Tindouf camps is, in itself, a message to the international consciousness. For this human rights defender, the United Nations should make pressure on Algeria so that it accepts the census of these populations retained against their will, and allow them to benefit from their rights, starting with the right of free movement.