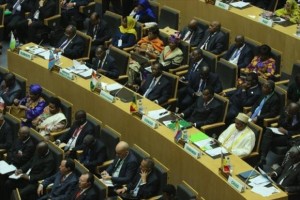 Algerian rulers no longer hide their hostility to neighboring Morocco, whereas in the past they used to claim neutrality in the Western Sahara conflict.
Recently, the Algerian leaders have been present on all fronts, engaging in an open, frantic diplomatic battle against Morocco and desperately defending the Polisario Front's separatist thesis.
The Sahrawi separatist movement, set up on Algerian soil, is lavishly financed by Algerian petrodollars to carry, on its part, its hostile campaign against Morocco.
Algerian diplomats who failed to snatch from the UN and the European Union an outright support for their outdated self-determination referendum option, have changed their track towards an easily accessible path, that of the African Union and its bodies. These African bodies are dominated by Algeria and its faithful allies like South Africa and Nigeria, whose governments publicly acknowledge the existence of widespread corruption.
In this vein, Qatari daily "Al-Arab" has openly criticized the way the African Union (AU) handles the Moroccan Sahara issue.
In a recent story entitled "Moroccan Sahara: the Gaffe of the African Union," Sudanese journalist Adel Ibrahim Hamad stressed that the AU, that replaced the defunct Organization of African Union, had unfairly recognized the ghostly Sahrawi republic "SADR."
The AU which refuses to recognize the Republic of Somaliland arguing it does not want to pave the way for tiny states, easily abandons this very logic and mentions pathetic arguments to justify the recognition of the pseudo SADR, wrote the author of the story.
Worse, the Algeria-dominated African Parliament called last Saturday for closing down Moroccan embassies in Africa.
Pressured by Algeria and its allies, the AU Consultative Assembly, which is based in Midrand, South Africa, not only urged for closing Moroccan embassies and called for preventing Moroccan teams from participating in African sports competitions, but also criticized the kingdom for its large investments in Francophone Africa, as these investments make the Algerian regime very uncomfortable.
Yet, Morocco which is convinced of the legitimacy of its cause, prefers to play in the big leagues, among others, the United Nations that has never recognized the Polisario, the test tube baby of the Algerian regime, nor its self-proclaimed Sahrawi Republic.