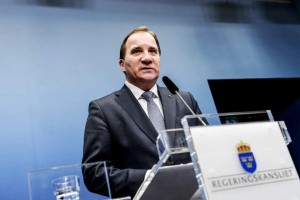 The recognition of SADR by Sweden "is not on the agenda," said Tuesday, the First Vice-Speaker of the Swedish Parliament, Tobias Billstrom, adding that his country supports the ongoing UN-sponsored process seeking a political settlement of the Western Sahara conflict.
Many parliamentarians and members of the Swedish Government broke the silence to appease the tension between Rabat and Stockholm after reports claimed that Sweden was planning to recognize the so-called Sahrawi Republic proclaimed by the Polisario Front.
Reacting to these reports, Billstrom, member of the moderate Rally (center-right,) confirmed that "given the reality on the ground, a recognition of SADR is not on the agenda".
"It is up to the Government to make the decision,' he said. Even if a proclamation is made by the Parliament or by a parliamentary committee, the decision to recognize an entity or not is part of the government's prerogatives, he said.
He recalled that the Swedish Foreign Minister, Margot Wallström, had said last week, before the Parliament, that "the conditions are not met" and that the issue of the "SADR" recognition was "not on the agenda."
Sweden does not recognize the "SADR" "neither today nor even in the long-run" Swedish public radio "Sveriges Radio" said in a story posted on its website.
"Sweden does not wish to make enemies while we are in the process of applying for a seat at the United Nations Security Council," wrote the author of the article.
These clarifications were echoed by the President of the Foreign Affairs Parliamentary Committee, the Social Democrat Kenneth G. Forslund who said that he had been "surprised by the turn of this case which started with mere rumors".
Pernilla Stalhammar, member and spokeswoman of the Green party, which is participating in the coalition government led by Social Democrat Prime Minister, Stefan Löfven since 2014,  assured, on her part, that the recognition of "SADR" is not included in the Sahara issue review process, initiated by the Swedish government.
"The recognition is not in the review process being conducted by the Ministries of Development, International Cooperation and Foreign Affairs," she said at the end of talks with a delegation representing Moroccan leftist parties, currently on a visit to Stockholm.
Stalhammar said she does not understand what triggered the diplomatic tension with Morocco, since no decision making is part of the review process.
"We support the UN process towards a political settlement of the Sahara issue," said the spokeswoman of the Green Party.