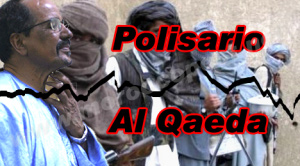 Mauritania has just announced the arrest by force on its territory of three Polisario Front activists acting within the al-Qaeda Organization in the Maghreb (AQMI), and the search is carried on to try to overpower what is remaining of the terrorist network.
This news confirms the different reports and conclusions drawn by many international experts and observers about the increasing danger of such collusion between the Polisario and the AQMI susceptible to increase tensions and conflict risks.
It is to be reminded that this is not the first time that activities, fighters and sometimes sympathizers of the Polisario are involved in Jihadi cells of Al Qaeda in the Maghreb or even participate in war or terrorist operations of the Salafi and Jihadi organization.
International experts as well as experienced members of the American Congress have many times warned about such an explosive proximity and such a frightening scenario being confirmed each day, especially as the Polisario is in full crisis, not to say in complete defeat, as the international support benefiting to the separatist movement tends to decrease, life within Tindouf camps is getting hard and unmanageable, life and management conditions are so deplorable and the internal Moroccan Sahara autonomy project wins more and more supporters at the international level.
Hence, and in these conditions, Islamist Jihadi sirens have become attractive for idle and over-armed fighters. Yet, more serious is the fact that the radical Islamist fervor might rush into all the Polisario militias and make them integrate AQMI's fundamentalist forces in the Sahara and the Sub-Saharan region threatening hence the stabilization of the Grand Maghreb and the African Sahel region. All these components, boosted by the movement of mafia networks specialized in drug distribution and marketing, via Africa and Europe, the rebel armed groups, like the Touaregs, and the organized crime attached to them, related to all kinds of trafficking and smuggling, constitute the most favorable environment for terrorism and armed movements proliferating there and endangering the region's stability and security.
The Polisario becomes one of the key elements of this new equation!