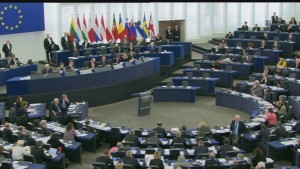 The Polisario, its Algerian mentors and their lobbyists at the European Parliament (EP) have failed to introduce anti-Morocco amendments in the European annual report on human rights in the world.
The EP adopted in Strasbourg on Thursday by an overwhelming majority of 390 votes against 155 the annual report without the anti-Morocco amendments, inflicting thus a stinging defeat to Morocco's opponents.
Much to the discontent of these opponents, in the section on Morocco in the Annual Report, the European Parliament praised as commendable the Kingdom's efforts in matters of human rights monitoring and promotion.
Similarly, for the first time, the European institution has not mentioned Western Sahara in its annual report, although the amendments submitted by anti-Morocco MEPs had called for expanding the MINURSO mandate to human rights monitoring in this very territory.
Pro-Polisaro MEPs, led by German Norbert Neuser and Portuguese Ana Gomez, "have seen their amendment on extending MINURSO mandate rejected", said the co-chairman of the joint EU-Morocco Parliamentary Committee, Abderrahim Atmoun after the adoption of the annual report submitted by the rapporteur, Italian socialist MEP Pier Antonio Panzeri.
"This is a great victory for Morocco in the European parliament," Abderrahim Atmoun said. With this vote, "MEPs have expressed their support to Morocco's efforts to promote Human Rights "he said.
The mobilization of MEPs, friends of Morocco, as well as the mobilization of the members of the EU-Morocco Parliamentary Committee, has enabled to thwart the maneuvers against Morocco.
The lobbyists for the Polisario's lost causes have suffered other failures at the EP which knows perfectly well the origins and history of the Western Sahara dispute between Morocco and Algeria through the Polisario.
The European Union and its various institutions cannot be fooled by anti-Morocco sides to the expense of Euro-Moroccan strategic interests.