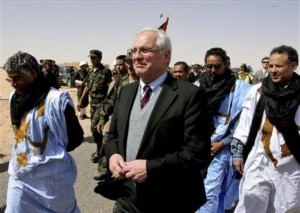 While a decisive meeting of the Security Council on the Western Sahara issue, scheduled for the end of April, is nearing the Polisario leaders seized the opportunity of the presence in the Tindouf camps of the UN mediator for Western Sahara, Christopher Ross, to fire their last blank cartridges.
After his visit to Rabat last Wednesday, Ross visited the following Saturday (February 14) the Tindouf camps, where he met Polisario senior executives and their leader Mohamed Abdelaziz who has just returned from Italy where he was hospitalized.
And once again, the Polisario members reiterated during the meeting with the UN mediator their obsolete claims, namely the organization of a self-determination referendum and the expansion of the MINURSO mandate to human rights monitoring in Western Sahara.
The so-called defense minister of the ghostly Sahrawi Republic (SADR), Mohamed Lamine Bouhali, has reportedly tried to exert pressures on the UN Secretary General's personal envoy and brought up again the Polisario's threat to resort to arms in case the UN does not respond favorably to its grievances.
According to a reliable source from Rabouni- the Polisario headquarters- Christopher Ross seemed very embarrassed by the separatists' blackmail but declined to respond to their provocations limiting himself to listening.
It seems that Ross has strictly followed the instructions of his boss, the UN Secretary General, Ban Ki-Moon, who had given King Mohammed VI assurances as to the neutrality and impartiality of his personal envoy for Western Sahara and other UN agencies, including the MINURSO which is entrusted with monitoring the cease-fire decreed on October 15, 1991, in handling the issue.
During her first visit to the Tindouf camps, the UN Secretary General' s new Special Representative and Head of MINURSO, the Canadian Kim Bolduc, has also refrained during her talks as well as in her statements to the local press, from talking about the expansion of the MINURSO mandate or about the self-determination referendum.
Mohamed Abdelaziz, his cronies and their Algerian mentors have been deeply frustrated by the unexpected attitude of the two UN officials, said the same source.