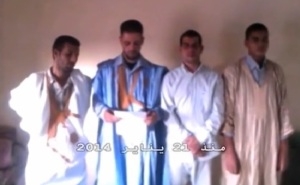 The young Sahrawis in the Tindouf camps are languishing in idleness and bogged down in a wait-and-see situation, admitted a Polisario senior executive who expressed fears to see their anger backfire on the Algeria-backed Polisario leaders.
The confession by M'Hamed Khaddad, the Polisario coordinator with the MINURSO, was revealed by a confidential document leaked and posted on Twitter. It clearly reflects the embarrassment of the Polisario and the Algerian leaders regarding the discontent and anger prevailing in Tindouf.
The anger is all the more dangerous that the Sahrawis of the Tindouf camps are increasingly aware that they are hostages used, through the Polisario, by Algeria, which continues to pull the strings of the Western Sahara conflict.
The Sahrawis stranded in the Tindouf camps in the Algerian desert for 40 years are deprived of their most basic rights such as the freedom of expression or movement. Any Sahrawi who dares to cross the lines drawn by Algeria is immediately sent to jail or eliminated. Likewise, all those who try to leave the camps without the authorization of the Polisario and the Algerian military intelligence services do so at their own risk.
DRS Officers are particularly cruel when Sahrawis dare to publicly support the Morocco-proposed autonomy plan for Western Sahara. The most illustrative case of this cruelty is that of Mustapha Salma, a former Polisario senior executive, who was jailed in 2010 and tortured for having expressed backing to the autonomy plan.
He was released following the pressures exerted on Algeria by international NGOs, including Human Rights Watch and Amnesty International. But once freed, Mustapha Salma was banned from the Tindouf camps and separated from his wife and five children, forced to remain in the camps.