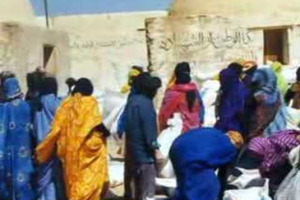 The situation in the Tindouf camps has gone over the past few months out of control for the Polisario Front leaders and security agents who are short of ideas to calm down an extremely exacerbated population.
According to the UN envoy for Western Sahara, Christopher Ross, the Polisario leader, Mohamed Abdelaziz, and his cronies are no longer in control of the situation in the refugee camps in Tindouf.
Ross made this revelation during a meeting he held behind closed doors in New York last March with the ambassadors of the member countries of the Group of Friends of the Sahara (USA, France, UK, Spain and Russia.)
Ross explained that the Polisario leaders' task had been complicated by the drastic decline in international humanitarian aid from European countries, and especially from Spain, because of the economic crisis prevailing in Europe.
Spanish journalist and writer Ignacio Cembrero reported Ross's assessment of the situation in a story published by "El Mundo" daily.
Citing documents and statements that have leaked from the New York meeting, the Spanish journalist, who is known for his hostility to Morocco, pointed out that the Polisario leaders find it very hard to calm down the infuriated and starving residents of the camps.
Quoting Ross's own words, Cembrero- who had been forced to resign from "El Pais" newspaper before he joined "El Mundo"- said that things got more complicated since the Algerian army and border guards tightened the noose around fuel and cigarettes smuggling between Algeria and Mauritania. This trafficking allowed many Sahrawi traffickers to meet the daily needs of their families.
Today, the Sahrawi refugees have lost all hope and no longer believe in the promises of their leaders that a settlement of the Sahara issue is nearing, wrote the Spanish journalist citing Ross.
Information coming out from the camps confirms the violent insurgency movements of young Sahrawis who blame Mohamed Abdelaziz and his cronies for having thrown them into this ordeal.
For once, Ross and Cembrero, who usually support the Polisario and its separatist thesis, have finally said the truth about what is really taking place in the Tindouf camps.