The Polisario unscrupulous leaders do not balk at anything to fill their pockets and do not even spare money collected to fund summer camps for Sahrawi children from the Tindouf camps.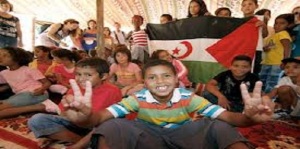 A representative of the Polisario Front in Spain, called Fatma Brahim, created scandal when she diverted this money to her personal use.
The irony is that the scandal was disclosed by members of the Association of Friendship with the Sahrawi people, a Spanish association known for its pro-Polisario stands and actions which co-finances "Holidays in peace," a summer camp organized by the Polisario.
At an event held in Merida, a city of the region of Extremadura (southwest of Spain) in the presence of Sahrawi kids, Spanish activists strongly denounced the embezzlement of the money by the Polisario representative. They brandished placards saying "Fatma Brahim, No te queremos aqui" (We do not want you here.)
Many Spanish media have repeatedly denounced how Polisario leaders use Sahrawi children to serve their propaganda purposes and to collect foreign aid.
In one of his articles published by "El Dia" daily under the title "Infanticide," journalist Ramon Moreno raised the issue of the foreign economic aid received by the Polisario. He recalled that "the assistance extended by the Canary government is estimated at two million euros per year, not including the aid donated by the island councils (Cabildo) and municipalities, several associations, NGOs, Spanish institutions, the EU and other international organizations."
Unfortunately, this huge financial aid is not used to alleviate the food shortages and suffering of the starving population in the Tindouf camps but goes directly to the pockets and foreign bank accounts of the Polisario leaders, and in the first instance Mohamed Abdelaziz.
The Spanish associations which continue to support the Polisario lost causes should draw lessons from such embezzlement scandals.