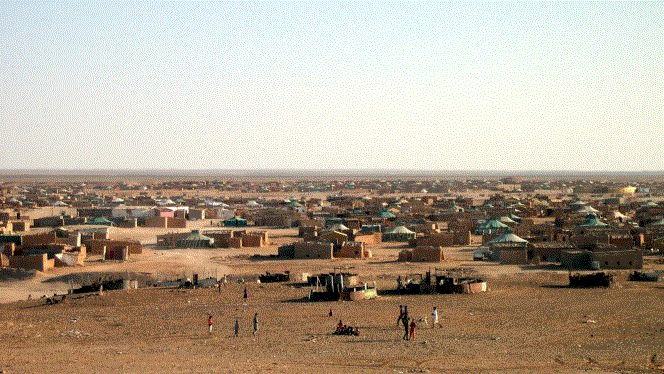 The Sahrawi population in the Tindouf camps continues to live in most precarious conditions and does not derive the least benefits from the billions of dollars squandered by the Algerian regime in its propaganda in favor of the Polisario and the so-called Sahrawi Republic.
According to Algerian experts' estimates as reported by the Algeria Times journal, the Algerian regime spent $ 250 billion over the past 40 years to keep afloat the separatist project in Western Sahara.  A Sahrawi living in the Tindouf camps said he had been dumbfounded when he heard about this huge amount which did not benefit the Sahrawi population in any way.
The people in the Tindouf camps continue to live in dismal poverty in a most inhospitable desert, he said. To make matters worse, the Sahrawis in Tindouf have the right to neither speak freely or to move outside the camps that are guarded around the hour by the Algerian military intelligence services (DRS) and the Polisario militia, he went on to say.
This dire situation was confirmed by Polisario former executive, Mustapha Salma Ould Sidi Mouloud, who has been banished from the Tindouf camps and separated from his wife and children just because he dared to publicly support the Morocco-proposed autonomy plan for Western Sahara. Mustapha Salma who had long served in the ranks of the Polisrio explained, as an insider, that it is the separatist front and Algeria which are hindering the Sahrawis's return home.
As to the Algeria Times' columnist, Hafid Bougara, he underlined that "the huge budgets put at the disposal of a handful of representatives of the separatists, some of their lobbyists and some pro-Polisario media, much to the great displeasure of the Algerian people, have so far been spent in vain as far as the Sahrawis are concerned."
In fact, the billions of petro-dollars squandered at the expense of the Algerian people were only used to maintain the forgotten Sahrawi population in misery.
The goal is known, as stated by Arab world expert Jean-Marc Maillard. Algerian leaders have been trying for decades to extend their country's hegemony in North Africa, the Sahara and the Sahel. As Morocco is their sole challenger in the region, the Algerian political-military oligarchy seeks at all costs to nurture the Western Sahara conflict as a thorn in Morocco's side. Besides, the Algerian regime has no financial problem to make the insane standoff last forever. Huge reserves of petrodollars are at hand.