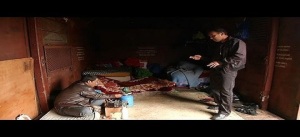 The lucky few among the thousands of desperate young Sahrawis settled in the Tindouf camps who manage to flee these camps have started to head to France as illegal immigrants.
Recently, forty of these disenchanted Sahrawis who reached France have applied for asylum in the European country, reported French newspaper "La Croix." This is a new rising migration phenomenon that is embarrassing the prefecture of Gironde, commented the daily.
Under the title: "In Bordeaux, Sahrawis Seek Asylum in France," the newspaper said the Sahrawi asylum seekers, aged between 20 and 30, have left everything behind in the camps, including their wives and children, in their attempt to "find a better future."
Many of these illegal immigrants are member of an opposition movement, dubbed Youth Movement for Change (MJPC,) which rejects Algeria's interference in their internal affairs in Tindouf as well as the diktat of the Polisario Front, wrote the author of the article.
The Sahrawis, who arrived in France more than five months ago, are still waiting for the French Office for the Protection of Refugees and Stateless Persons (Ofpra) to process their asylum applications.
One of these young Sahrawis was quoted by the newspaper as saying that their situation in Bordeaux is better than in the Tindouf camps, even if they do not have the right to work and live only on a temporary allowance of € 300 per month granted by the French State.
The situation in the camps "is much worse," said the young Sahrawi bitterly. "There in the refugee camps, there is no work, no water, no electricity or medical care."
The Bordeaux-based daily "Sud-Ouest" had published early June a reporting on the presence in Bordeaux of 35 Sahrawi immigrants living in cattle cars stationed in a closed railway line in the Saint-Jean train station.
In the past, the Sahrawis who succeeded to escape from the hell of Tindouf used to go to Mauritania, Morocco, the Canary Islands, and especially to Spain.
However, since the economic crisis struck Spain, which is currently recording one of the highest unemployment rates in the European Union, the fleeing Sahrawis changed the course and started heading towards France. French experts warn that this new migration phenomenon is likely to increase in the absence of a final settlement of the Western Sahara conflict.