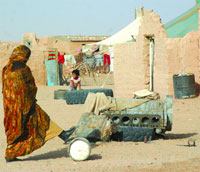 Nomads' movement, regularly made in the Sahara by tribes and ethnic groups, has undergone a significant change in the wake of the events occurring after the territory independence. The departure of Spain, the colonial power, after agreement with Morocco, the guerilla trigger by the Polisario Front elements with the political and military support of Algeria and Libya and the passive complicity of some elements of the Spanish army have destabilized all the pastoral society in the Western Sahara. Scattered or withdrawn camps have fled in panic the deserted spaces where they found their existence and identity sources and have become the miserable refugees while an important part of the population, if not the majority, have remained there. They settled there and have benefited from the advantages offered by the economic and social development of the government of Rabat.
To better define the Sahrawis' movement phenomenon in their wide space, we have to go a little back. They are nomad populations in continuous movement faced with the natural calamities and with the military confrontations dangers. In 1960, the Rguibats lgouacem have been settled in Tindouf and its region due to drought which was rampant in Sahara. This massive exodus has been considered as the beginning of the population's future adoption of a sedentary lifestyle whereas it was indeed only a temporary fixation motivated by the constraints of the moment. Early 1958, the violent and bloody French-Spanish repression (swab operation) in Saquiat Al Hamra region has caused a massive and painful exodus of the refugees who have fled fights zones. They have been grouped around Guelmim South of Morocco, there again it was only a voluntary and temporary movement.
The Saharan populations, who have always fiercely opposed the fatal spectrum of separation and strife, leave in it for more than thirty years. The human ecology of the Western Sahara still suffers from the agonies of this painful shock which has moved away the ethnics from their natural trails. For the Sahrawi nomad, the authority of the one or of those who represent the patriarchal power is the reference of his homeland and his universe.