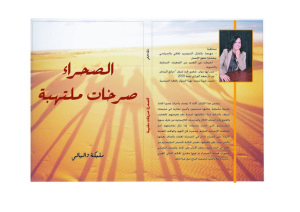 "Sahara, Burning Cries" is the title of a new book denouncing the Polisario's diktat and the ordeal of the Moroccan Sahrawis in the Tindouf camps.
The book's title and its cover give you a foretaste of the content of the volume which depicts the incubating revolt in this remote corner of the Algerian desert.It also depicts the better future that has yet to come for thousands of desperate youths in the camps.
The author of the book, Malika Oualiali, an editor in a Moroccan women's magazine and essayist who is also known for her ardent defense of human rights in general and women's rights in particular, pinpointed the problems prevailing in the camps. The author, herself native of Morocco's southern provinces, described in her incandescent style better than anyone else the daily hardships of her countrymen in the Tindouf camps.
The journalist claims that publishing this book has made one of her dreams come true, namely "support a legitimate cause and lift the veil on the barbaric practices in the camps of shame."
Oualiali denounces the daily injustice that has been inflicted on her Sahrawi brethren in the Tindouf camps for almost forty years just because they dare express their attachment to their Moroccan identity and to their native land in southern Morocco. The author who deplores the impunity enjoyed by the Polisario torturers wonders how such crimes had not been punished yet and how the cries of distress have not been heard yet.
The book publishing coincides with the surge of revolt currently prevailing in the Tindouf camps.
The repeated protest movements and demonstrations coupled with the creation of several youths' opposition movements signal, if need be, that the ideology and separatist claims of Abdelaziz and his cronies are obsolete.
The status quo imposed on the Polisario Front by its Algerian mentors and protectors proved disastrous at the end of the day.
The daily propaganda speeches of the Polisario leaders and Algerian media are no longer able to calm down the growing discontent especially of Sahrawi youths and the young rebels reject outright the diktat imposed on them by the Polisario and the Algerian army and openly claim their rights, particularly the right to free expression and free movement.