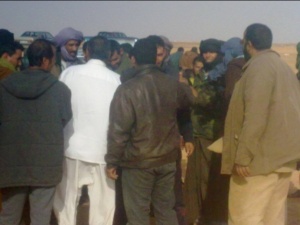 The Polisario leaders who lack means and ideas to meet the demands of the Tindouf camps populations have only the bludgeon to offer to the claimants.
And this is what happened last Sunday, when a demonstration that was more like a genuine popular uprising, was staged in one of the Tindouf camps, labelled Laayoune camp, after local officials prohibited the opening of small businesses, the only means for many youths to get out of long term unemployment.
These officials did not stand that a young Sahrawi, Ghilani Lahcen Houcine Boumerrah, continued building a small shop attached to his dwelling, so they demolished the shop and arrested the owner. This harsh response angered hundreds of youths who took to the streets, besieged the headquarters of the Polisario local leadership, called the province, and set fire to the premises. The demonstrators also beat the so-called Wali, Hamma Bounya, and set fire to his car.
Realizing the extent of the protest movement and fearing that trouble might break out in other camps, the Polisario dispatched from its HQ in Rabouni many reinforcements and opened negotiations with the leaders of the demonstrators. Calm was restored, but for how long? The Tindouf camps are a powder keg.
Hundreds of young people in the Tindouf camps, like Houcine Boumerrah, have been languishing under the scorching sun of the desert for too long, at grips with poverty and unemployment. They survive on petty jobs and sometimes on illegal activities such as drug trafficking or fuel and other goods smuggling.
Hundreds of unemployed youths, worn out by their precariousness and uncertain future, are staging more and more demonstrations against the Polisario leaders.
Many of these youths have rallied a recently set up protest movement "Attaghyr" (change), which accuses the Polisario and its leader Mohamed Abdelaziz of having betrayed the Sahrawi cause by blindly obeying the orders of the Algerian generals whose goals are certainly not a negotiated settlement of the Western Sahara conflict.
Most of these youths admit that they have no other prospect than escape the hell of Tindouf, where, they say, there is no glimmer of hope for a better future.