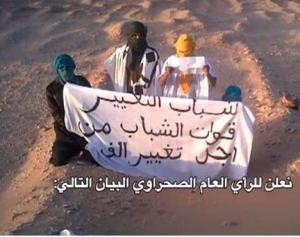 The Polisario leaders, who have been very disappointed by the UN Security Council's refusal to expand the MINURSO prerogatives in Western Sahara, are waging a campaign of systematic arrests of young Sahrawi dissidents.
Following recent acts of sabotage and protest, the Polisario armed militias were ordered to comb the Tindouf camps to capture any resident suspected of belonging to or collaborating with the young dissidents' movements.
Last week, a group of dissidents has reportedly set fire to three tents that were reserved to guests to the film festival "Fisahara" held April 29 to May 4 in the camp of Dakhla in Tindouf.
According to reliable sources from Tindouf, the Polisario security services arrested a dozen people, allegedly accused of setting the fire that caused no casualties.
Given the growing grievances of Sahrawi youths who claim a fair distribution of food aid and the lifting of the restrictions imposed on tradesmen, the Polisario militia and the Algerian army launched a massive campaign to arrest the dissidents opposed to the separatist front's thesis, under the pretext of searching for the authors of the arson.
The pro-Polisario media have accused a "criminal, traitor gang" of being the author of the arson and reported, quoting security sources, the arrest last Friday of a young Sahrawi who has supposedly set the tent on fire with a Molotov cocktail. The search continues for the arrest of other "accomplices" who have helped him "perpetrate his crime," the media said.
The wanted persons are accused of filming the fire and sending the video to the Moroccan regional TV station, "Laayoune TV" which will broadcast it as it did with a number of other amateur videos received directly from the Tindouf camps.
The pro-Polisario media accused "the Youth Movement for Change" of instigating such acts.
The activists of this movement actually resort to various means to uncover the corruption prevailing in the camps, the embezzlement of humanitarian aid initially destined to impoverished Sahrawis and the daily harassment inflicted on the camps residents and tradesmen.