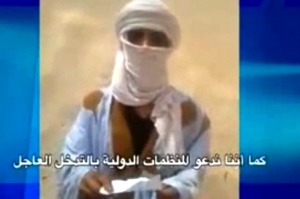 The protest movements in the Tindouf camps, especially among young Sahrawis, have gained such momentum that the Polisario armed militia can no longer crush them.
Protests spread to all camps and the number of malcontents gathered in "the Youth Movement for Change" (French acronym MJPC) is increasing. The situation is so worrying that last week Officers of the Algerian military intelligence services summoned the Polisario leader, Mohamed Abdelaziz, and reprimanded him harshly. Back to his headquarters, Abdelaziz summoned his lieutenants for a meeting. But during the heated meeting, while Abdelaziz was being briefed on the security situation in the camps and on the increasing support among the camps population to the Morocco-proposed autonomy plan, he had a stroke and fainted.
Over the past few weeks, Moroccan flags were hoisted on the hills overlooking the camps and leaflets were distributed across the camps by MJPC activists. The flyers mainly denounce the mismanagement of the camps and of the humanitarian assistance by Mohamed Abdelaziz and his close aides. They also blame the Polisario leadership for being totally submissive to Algerian authorities.
The young Sahrawi protesters also accuse the Polisario of having done nothing so far to find a solution to the Western Sahara conflict that has lasted for nearly four decades.
The young Sahrawis, frustrated by the Polisario unfulfilled promises and by their dire living conditions in the camp, do not see any way out other than to defend the autonomy option that will enable them to return to their homeland, Morocco, and to recover their dignity.
Several videos on the abuses prevailing in the camps were aired by the Moroccan regional TV channel "Laayoune TV" and last Monday, the channel broadcast the MJPC communiqué N°2.
The one-minute recording shows a hooded Sahraoui announcing, in the presence of two other youths donning Daraïyat (the traditional Sahrawi gown,) that many Sahrawis from different tribes have rallied their movement.
The MJPC communiqué called the Sahrawis to get ready for an open confrontation with the Polisario leadership and its armed militia.