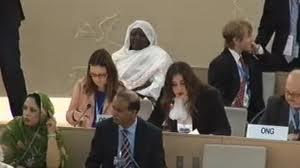 Algeria, which claims to be the defender of human rights in the Moroccan Western Sahara, has recently found itself in the eye of the storm during the ongoing 25th session of the UN Human Rights Council (UNHRC).
Many NGOs and human rights advocates have strongly criticized the Algerian regime holding it responsible for the long lasting humanitarian tragedy of the Sahrawi populations living in the Polisario-controlled Tindouf camps.
Delegates from several NGOs have denounced during UNHRC plenary sessions the blockade imposed on the Tindouf camps and strongly condemned the serious violations committed with impunity on Algerian soil against thousands of Sahrawis who are denied their most basic rights such as the right to a decent life and the right to freedom of movement and expression.
Representatives of the Agency for International Development (AID,) the Organization for communication in Africa and international economic cooperation (Ocaproce) and the International Action for Peace and Development in the Great Lakes region (AIPD) also asked the HRC to pressure the Polisario and Algeria to immediately lift the blockade on the Tindouf camps.
"It's time the Polisario and Algeria heed the calls to release their stranglehold on the thousands of families, women and children, to allow the identification of the camps populations and give them the opportunity to return to their country of origin," said the delegate of AID.
Ahmed Kheir, an AIPD member who had been detained by the Polisario when he was living in the Tindouf camps, told the UNHRC a heart-rending story on the detention conditions in the Polisario prisons.
"I spent 14 years in the separatists' jails, including 10 years in solitary confinement. All along these years, I suffered the worst forms of physical and mental torture at the hands of the Polisario torturers who were acting under the supervision of the Algerian intelligence services," he told the HRC.
Other speakers denounced the appalling situation of women and children in Tindouf, stressing that it is most urgent that the international community, the UN and the UNHRC shoulder their responsibilities and release these populations from the Algerian regime's grip. They also urged the Algerian rulers to stop using the plight of the Tindouf camps populations and the Western Sahara issue as a means of pressure on their Moroccan neighbor.