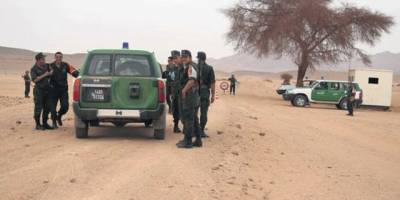 Two Sahrawis, member of the Polisario Front, were shot dead by Algerian soldiers in an area bordering on the Mauritanian frontier called "Wediane Tetrat."
Activists of the Forum of Support to Autonomy Advocates in Tindouf  "FORSATIN" who disclosed the incident said a mobile unit of the Algerian army had been ordered to chase two trucks and two all-terrain vehicles that were driving Sahrawis to Mauritania.
As the vehicles refused to pull over, the Algerian soldiers fired several shots killing at least two people and injuring several other fugitives. Several other Sahrawis are reported missing, the same source said.
According to FORSATIN, three survivors, including one who is in critical condition because of his wounds, managed to return to the Tindouf camps and to recount the bloodbath committed by the Algerian army.
Quoting sources based in the Rabouni camp which hosts the Polisario headquarters, FORSATIN said that the carnage committed by Algerian soldiers has stirred up the anger of the victims' tribes and families.
Following this serious incident, the Polisario Front leader, Mohamed Abdelaziz, and his close aides are expecting a new wave of protest in the Tindouf camps. The people living in Tindouf and in other camps usually flock to Rabouni to express their anger despite the sand walls erected around the camps to isolate them from each other and to better control the movement of people.
The Algerian side's official version is that these walls were erected to strengthen struggle against terrorism and illicit trafficking of all kinds. The Tindouf camps residents however ensure that the walls were rather part of the measures adopted by the Algerian military authorities, in consultation with the Polisario leadership, to prevent the Sahrawis from fleeing to the Moroccan southern provinces or from joining AQIM bases in the Sahel.