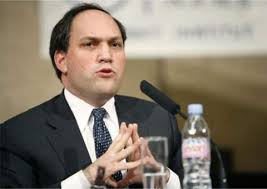 The humanitarian assistance extended to the Sahrawis living in the Tindouf camps and that the Polisario leaders do not hesitate to embezzle to enrich themselves and fund illegal actions is, today, a real threat to American security, according to a US defense expert.
"If the Obama administration truly cares about making sure taxpayer funds and foreign assistance do not go to terrorist networks that threaten U.S. national security, such as AQIM, it must ensure that no money goes to the Polisario camps," states Michael Rubin, resident scholar, American Enterprise Institute, and lecturer at Naval Postgraduate School (NPS) Center for Civil-Military Relations (CCMR)
In an analysis published in the U.S. publication, "Commentary Mazgazine" under the title "Algeria's Aid Scam Threatens US Security", Michael Rubin openly accuses the Polisario and the Algerian government of scams, embezzlement of international aid and falsification of demographic data of the Tindouf camps residents.
Rubin, who is also editor of the "Middle East Quarterly" wonders why the Polisario and the Algerian government refuse so obstinately to let the Sahrawis return to Morocco. The reason is that holding them hostage is quite lucrative, he explains, adding that as long as the so-called refugees are in the camps, the humanitarian assistance flow will continue.
It is also for these very reasons that the Algerian government and the Polisario torturers refuse to allow the United Nations to conduct any census of the camps residents. Such a census will unveil the real number of refugees and consequently the subterfuge and treachery of the Polisario and its mentor Algeria which swell the numbers to get relief for perhaps five times the number of refugees who actually live in the Polisario's camps.
The money derived from humanitarian aid embezzlement ends up easily in the hands of AQIM and other Algerian and Sahel terrorist movements, warns the pundit.
"If the Obama administration and Congress are truly committed to preventing an al-Qaeda resurgence," and "if they truly want to ensure the United Nations has credibility, then it behooves everyone to ensure that no money goes to the Polisario camps until there is basic accountability," he states.
Ignoring the corruption of Algeria and the Polisario is no longer a question of preventing waste. "Increasingly, it is a matter of national security," affirms Michael Rubin.