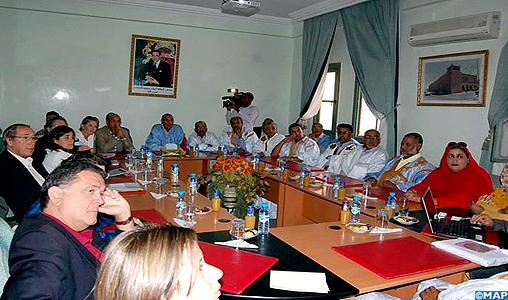 The Polisario leaders and torturers are again placed in the dock for the abuses and serious human rights violations they committed in the Tindouf camps.
Sahrawi civil society activists last Sunday seized the opportunity of a visit to Laayoune of a delegation of the Working Group on Arbitrary Detention (WGAD) to denounce the abuses and violations inflicted on the populations sequestered by the militias of Mohamed Abdelaziz, the Polisario chief.
The delegation, led by WGAD chairman, El Hadji Malick Sow, is visiting Morocco this December at the invitation of the Moroccan government.
The invitation is part of Morocco's opening up and interaction with the mechanisms of the UN human rights system and also translates the Kingdom's strategic and irreversible choice in the matter.
The visit is meant to be an opportunity for the UN experts to get informed on the various reforms initiated by Morocco in the fields of justice, human rights and arbitrary detention.
After a series of meetings with officials, politicians and civil society activists in Rabat, the WGAD experts visited Laayoune for similar meetings with the local civil society militants.
These militants expressed to the UN experts their serious concerns regarding the precarious living conditions of the Moroccans forcibly held in the Tindouf camps on Algerian soil for almost 40 years.
They have also denounced the impunity enjoyed by the Polisario leaders in the absence of appropriate mechanisms likely to enable international human rights NGO to investigate the crimes committed in this land of lawlessness.
The Polisario torturers continue to "commit all forms of torture" against the sequestered population, subjected to "daily humiliation and repression" in the camps of shame, said the president of the Association of missing people at the hands of the Polisario, Dahi Akai.
Dahi Akai, who had himself been imprisoned in the Polisario jails, asked WGAD to endeavour to help elucidate the fate of the missing and lift the blockade imposed on thousands of Sahrawis so that they can return freely to Morocco, their homeland.