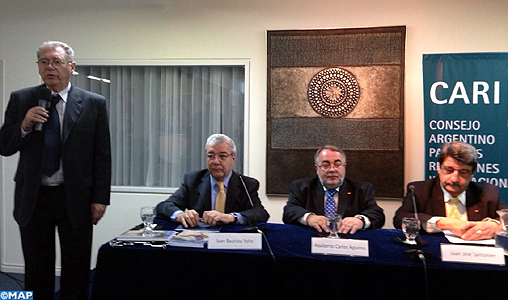 How did the Polisario leaders ally with the terrorist groups and drug trafficking networks operating in the vast Sahel-Sahara region? This is the mystery that Argentinean scholar, Carlos Adalberto Agozino, attempted to disclose in a recently published book.
In this book entitled "Geopolitica del Sahara-Sahel" (The Sahara-Sahel Geopolitics) and published by Ediciones Dosyuna Argentinas, the author is categorical as to the existing collusion between the Polisario and the terrorist groups roaming in the Sahel and sub-Saharan Africa, mainly Al-Qaeda in the Islamic Maghreb Islamic (AQIM ).
Quoting credible sources, including from the North Atlantic Treaty Organization (NATO), the author of the book asserts that the Polisario leaders and militia are also in collusion with criminal organizations involved in the trafficking of hard drugs originating from Latin America.
The book that was recently presented in Buenos Aires also mentions indisputable evidence as to the Polisario's involvement in the abduction of foreigners. The hostages are delivered, in return of money, to terrorist groups which negotiate their release with their native countries in exchange for huge ransoms, the author says.
He cites, in this respect, the involvement of the Polisario former leader, Omar Ould Sid Ahmed Ould Hamma, aka Omar Sahraoui, in the abduction of three Western humanitarian workers in the Tindouf camps in November 2009. The hostages were handed to the men of AQIM chief, Mokhtar Belmokhtar.
The author also recalls the participation in 2011 of hundreds of Polisario mercenaries in the Libyan war to back Muammar Gaddafi's troops, as well as the terrorist attacks staged by the separatists between 1975 and 1986 against some sixty Spanish trawlers. These attacks off the Canary Islands resulted in the death of 289 fishermen.
The overwhelming evidence stated in the book confirms, if need be, the suspicious links of the Sahrawi separatist leaders despite the Algerian generals' attempt to conceal these dangerous alliances.