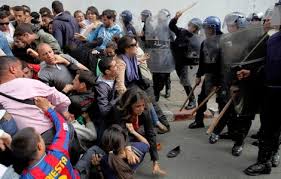 Algeria which applied for one of the 14 vacant seats of the UN Human Rights Council (HRC) is pinpointed for human rights violations.
In a letter to President Bouteflika, several regional and international human rights organizations, including Human Rights Watch (HRW) have criticized the Algerian government for its lack of cooperation with the HRC and its special procedures, and for its refusal to allow these organizations to visit Algeria and conduct their investigations in the country.
In this letter, which coincides with the meeting of the HRC to elect new members to the vacant seats, HRW and the other NGOs enumerate a long list of visit requests addressed to Algerian authorities which remained unanswered. Some of these requests date back to 1997 as the one made by the Special Rapporteur on torture.
The letter mentions visit requests and annual reminders made from 2006 to 2012 by the Special Rapporteur on Racism, the Working Group on Enforced or Involuntary Disappearances, the Special Rapporteur on human rights and the fight against terrorism, the Independent Expert on foreign debt, the Special Rapporteur on freedom and peaceful assembly, the Independent Expert on Cultural Rights, the Working Group on Arbitrary Detention, the Special Rapporteur on torture and the Special Rapporteur on extrajudicial, summary or arbitrary executions. All these bodies used to send reminders to Algeria every year.
A few weeks ago, Human Rights Watch denounced the "climate of intimidation and fright" sustained by the Algerian power to hamper the development of independent civil or unionist associations.
HRW, quoting Algerian trade union sources, also cited "tactics used by the authorities to interfere with union activity during strikes, peaceful demonstrations or rallies." That being the case in Algeria, one wonders how President Bouteflika dared to plead for the defense of human rights in Western Sahara instead of cleaning his own backyard.