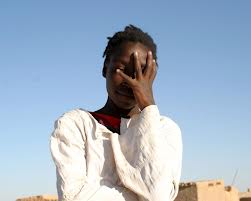 The Tindouf camps are in turmoil again and Polisario leaders are very embarrassed. These past few days, a fringe of the Sahrawi population, held against their will in these camps, staged a large scale uprising.
After the Polisario was denounced recently before the UN Human Rights Council (UNHRC ) in Geneva by Sahrawi women's associations  for rape, forced pregnancy and other inhumane ill-treatments, Black Sahrawis began to rebel against the practices of slavery and marginalization they are subjected to on Algerian soil in Tindouf.
Sahrawis of color have recently organized a series of protest movements in the camps and in front of the Polisario headquarters in Rabouni to denounce the racist practices of the leaders and torturers of the separatist movement.
In a manifesto and press releases secretly sneaked out of the Tindouf camps and widely disseminated by the media in Mauritania, the Sahrawis of color denounce their exclusion and marginalization by the separatist front. They also decry the denial of their basic rights and their deprivation of the food rations they are entitled to part of the international humanitarian assistance to the Tindouf camps refugee population.
In the manifesto, signed by dozens of slavery victims, the black activists say they want to inform embassies and the international community of the racial segregation and discrimination practiced by the Polisario and Algerian authorities against blacks.
The Sahrawis of color who have been sequestered for decades in deplorable conditions complain about the daily abuses they are subjected to on the part of the Polisario militia and the Algerian army.
They hope that their call of distress will be heeded by the UNHRC which is currently holding its 24th session in Geneva.
The UNHRC session (Sept. 9 to 27) has already received several complaints from Sahrawi men and women who say they are victims of abuses and violations committed by the Polisario torturers and elements of the Algerian army in the Tindouf camps.