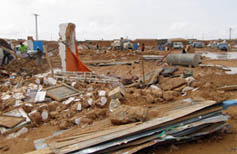 Tindouf camps on Algerian territory were the theatre of serious floods which damaged old and used tents.
Although no casualties were announced, the damage is very serious and the 2005 scenario is not to be excluded. To help the victims, the World Food Program (WFP) requires a precise census of the camps populations for better organizing its interventions and also stopping the humanitarian aids embezzlement. Algiers and the Polisario Front refuse the request.
Algerian authorities obstinately refuse the census in the camps because they continue to use the concept of Sahraoui "people" who fled to take refuge in a friendly nearby country.
By refusing the census of the refugees in Tindouf, Algeria violates the convention of July 28, 1951 on the statute of the refugees and the protocol of January 31, 1967. These texts stipulate that the refugee's census should take place, to determine the population's needs especially the integration in their country of origin.
Many areas in the Maghreb were touched by floods. In several regions of Morocco, the flood even took a catastrophic form. It was human losses and populations without shelters.
The Sequestered in Tindouf are Moroccan citizens and the Moroccan government has the same obligation of help and support for the sahraouis in the camps as for the other Moroccans.
But how can Morocco assist and protect those sequestered?
The Sahara under Moroccan sovereignty lives and knows full prosperity. The last huts were demolished in the "unity camps" offering to their inhabitant's homes and a better quality of the life when the sequestered in Tindouf vegetate under non-human conditions and with flood as roof for their misfortune…