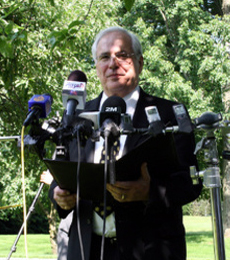 The UN mediator for the Western Sahara, Christopher Ross, who is currently touring North Africa, listened to overwhelming statements on the serious human rights violations in the Tindouf camps when he received delegates of civil society associations in Laayoune and Dakhla.
Leaders and activists of local human rights associations and organizations denounced, while being received by Ross, the serious human rights abuses and violations committed against the populations sequestered in the Tindouf camps in south-western Algeria.
In Laayoune, the chairman of the association of missing people victim of the Polisario, Dahi Agay, who had himself been detained in the Polisario jails in Tindouf, and the chairman of the "Alouahda" association militating for the sequestered populations' right to return to their Motherland, Ahmed Khar, informed the UN envoy that the Polisario torturers continue to inflict all kinds of persecutions to the sequestered populations, forcing them to live in humiliation and oppression.
The two militants who denounced the Polisario leaders' stubbornness and their sticking to the same position for over three decades underscored that while Morocco proposed an autonomy plan to settle the long-running territorial conflict, the Polisario refuses to make any concession to help the United Nations reach a final settlement.
Both associations have seized the opportunity of their meeting with the UN envoy to call the international community to put an end to the Polisario-committed violations and to lift the blockade imposed on the sequestered populations to enable them to move freely.
They also stressed the need to open an international investigation into the crimes committed by the Polisario leadership and to conduct a census of the populations living in the Tindouf camps to better monitor how the international humanitarian aid is channelled to these populations.
Other activists in Laâyoune-Boujdour-Sakia El Hamra, including elected representatives and tribe leaders, confirmed, at a meeting with Ross Saturday, that the autonomy initiative in the southern provinces, under Morocco's sovereignty, remains the sole appropriate way to settle this issue.
Parliamentarians, elected representatives and activists in the region of Oued Ed-Dahab-Lagouira held on Sunday in Dakhla meetings with the UN envoy.
At the end of these talks, they called for an urgent and definitive solution to the artificial conflict over the Sahara to end the sufferings of the sequestered populations in the Tindouf camps. They made it clear however that no solution can be found to this conflict unless the Algerian government shows political will to settle the issue.
Before going to Laayoune and for the first time to Dakhla, Ross visited Rabat, where he met several officials, including the Prime Minister, the Foreign Minister and the Speakers of the two Houses of the Parliament.
Ross's talks in Morocco also focused on the humanitarian situation in the Tindouf camps as well as on the Malian crisis and its impact on security in the region.