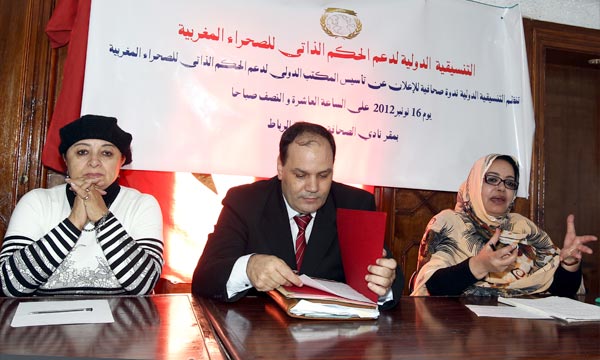 The Polisario separatists are trying to impose in Morocco the climate of injustice and impunity that has always prevailed in the camps of Tindouf on Algerian soil.
The deadly events that took place in Gdeim Izik and the trial that started earlier this month at the military court in Rabat,  translate these attempts perfectly well.
The International Union for the Support of the Sahara Autonomy Plan has denounced these maneuvers and called for the enforcement of the law in the case related to the dismantling of the Gdeim Izik camp.
The Sahrawi Association has also called on all stakeholders in the trial not to get bogged down in the attempts seeking to politicize the trial as this would lead them astray from objectivity, impartiality and respect for the feelings of the victims' families that the least they deserve is that justice be rendered.
The association  expressed amazement to see some Moroccan and foreign human rights activists and NGOs step in to defend the 24 alleged perpetrators of the murder of eleven members of the security forces, whose corpses were mutilated. These "defenders" actually seek "to reverse the roles of victims and criminals," the association said.
In a statement released Thursday, the association deems that such positions are "inconsistent with the noble principles and values of human rights as they are universally recognized, and which advocate the respect for the right to life, justice and equity."
The suing of the 24 alleged murderers of Gdeim Izik before a military court "is an absolutely legal measure" made in a sovereign country where the rule of law and justice prevail, the association said.
It argues that bringing the offenders before a military court is by no means an "exception" as claimed by some parties. The process is perfectly in tune with the nature of the crimes committed against the military.
The atrocious crimes committed by the defendants are not the result of "an exchange of violence, but a unilateral aggression orchestrated by the enemies of the nation," the association went on to say.
The defendants involved in the bloody clashes that occurred during the dismantling in November 2010 of Gdeim Izik camp near Laayoune are prosecuted for "constitution of criminal gangs, violence against law enforcement agents that led to death and mutilation of corpses."
The Sahrawi Association is planning to hold on Friday February 15 a sit-in in front of the military court in Rabat to voice solidarity with the Gdeim Izik victims' families.