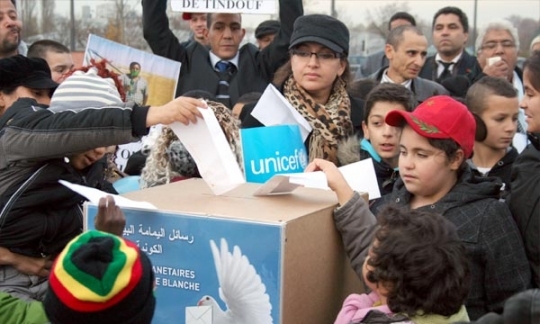 A hundred demonstrators, including several Moroccan and European children, staged a demonstration Wednesday outside the headquarters of the European Parliament in Strasbourg, to voice solidarity with the Moroccan Sahrawi children and their families sequestered in the Polisario-controlled camps in Tindouf on Algerian soil.
The demonstration was initiated on the occasion of the World Children's Day (21 November), in the wake of the "White Dove Operation", launched by Moroccan Sahrawi children who luckily managed to escape the Tindouf camps hell and return to their homeland, Morocco.
The solidarity initiative was sponsored by the International Movement for perfecting Morocco's territorial integrity, the Toubkal Strasbourg Association, the European Coordination for the Moroccan Sahara autonomy and the Union of Alsace & Lorraine associations.
The "White Dove operation" sponsors wanted to make the voices of the mothers sequestered in inhumane conditions in Tindouf heard, through sending letters of protest to UN and European officials by Moroccan schools parent associations.
During the rally in Strasbourg, children released white doves, symbol of peace, and urged international humanitarian organizations to denounce the horrible crimes sustained by Moroccan Sahrawi children, forcibly snatched from their families and deported to Cuba, Eastern European countries, Algeria, Libya and elsewhere to be indoctrinated.
"These deportations are essentially meant to distort the identity of children who are exploited for political and ideological ends, who are coached  to hate their homeland, Morocco, and who are used as a means of blackmail to prevent their parents from leaving the camps," the demonstration organizers said, adding that these children are also used to attract more international aid.
The purpose of the rally is also to unveil before the international community the "massive violations of human rights" committed in the Tindouf camps under the passive watch of the Algerian hosting authorities, the organizers said.
The protesters demanded an urgent international intervention to put an end to the plight of the Moroccan Sahrawi families confined in the Tindouf camps, where the Polisario leaders and torturers violate human rights and freedoms and repress violently any attempt to flee to the motherland, Morocco.
The abuses committed by the Polisario and their mentors prompt a growing number of young people in the Tindouf camps to rally the terrorist armed groups and criminal networks that roam in the Sahel-Sahara region.