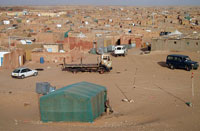 The Polisario Front gave a nasty surprise to the sequestered populations of the Tindouf camps on April 1, 2008. They operate "checks" and verifications at night after suspicions of possible escape and "preparations" to join the Moroccan territory via Mauritania.
The international community has learned with sadness that massive arrests were made and 30 people were apprehended and then taken along towards an unknown destination, probably the military prison located at 15 Kilometers in the South-west of the camp of Rabouni, headquarters of the guerrilla.
After a week, families are still without news from their arrested close ones. They have asked in vain, to, at least hear from their relatives, having given up the hope to see them.
After this wave of arrests ordered by the executive committee of the Polisario Front, spontaneous demonstrations took place within the camps, the sahraouis claiming that fundamental freedoms to be respected.
In order to resolve the problem, the populations of the camps decided to delegate an old respected sheik to negotiate with the military authorities of the Guerrilla. He returned empty handed and explained why the leaders of the front refused to receive him: they told him to go get ***** by the Moroccans.