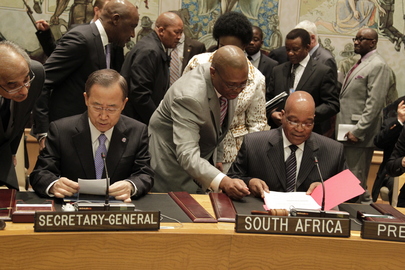 After several days of polemics on the UN secretary General's report on the Western Sahara and the MINURSO, the Polisario and its Algerian and South African masters were dealt a new blow. Their maneuvers to make the MINURSO plays the role of the gendarme of human rights in southern Morocco have failed.
The UN Security Council extended, on Tuesday, the mandate of the MINURSO for one year, until 30 April 2013, without modifying the purpose of this mission. Instead, the Council called Algeria to order by asking it to authorize the UNHCR to register and conduct a census of the Sahrawi populations in the Tindouf camps.
Actually, the new resolution falls in line with the previous resolution 1979 voted in April 2011. The extension of the MINURSO mandate for another year was thus approved but without adding any new prerogatives to the mission such as the monitoring of human rights in Sahara.
The resolution was not to the taste of the Polisario representative, Ahmed Boukhari, who told a Western news agency, not without bitterness, that "one more time, the Security Council sacrificed human rights in the Western Sahara". The resolution was not appreciated either by the representative of South Africa at the Security Council, Baso Sangqu, who could not hide his "disappointment" after the resolution was passed.
Actually, for the fifteen members of the Security Council, any modification of the initial mandate of the MINURSO would mean a total revision of the prerogatives of this UN mission, set up in 1991 to oversee the cease-fire between the Polisario and Morocco.
The UN Security Council recalled that "it endorses the recommendation stated in the General Secretary's report of 14 April 2008 according to which it is indispensable that the parties give proof of realism and show a spirit of compromise to make the negotiations progress".
For the enemies of Morocco, namely Algeria and associates, an appointment is therefore set for next year at the same date.