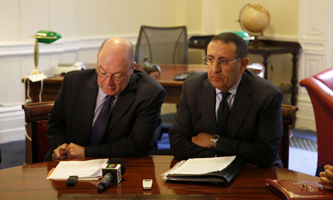 The settlement of the Western Sahara conflict goes necessarily through reconciliation between Algeria and Morocco. The issue which has been lurking in the corridors of the UN for more than 36 years cannot be settled without the good will of Algeria.
This viewpoint is shared by most experts and territorial disputes specialists as well as by many countries.
Foreign Office Minister for the Middle East and North Africa, Alistair Burt, upheld on Monday a similar point of view. He asserted that rapprochement between Morocco and Algeria "can make the difference" for the Sahara issue settlement. He renewed the United Kingdom's support to the efforts made by the personal envoy of the UN Secretary General to reach a final solution.
Burt on the other hand described as "a constructive proposal" the Autonomy plan for the Sahara proposed by Morocco as a solution to the conflict opposing it to the Polisario Front.
Relations between Morocco and Algeria are of critical importance for the settlement of the Sahara issue, Burt said at the end of a meeting in London with Moroccan junior foreign minister Youssef Amrani.
The British official expressed satisfaction at the willingness of Morocco and Algeria to work together saying such a rapprochement "can make the difference" for the Sahara issue settlement.
Burt's comments were made on the eve of a UN Security Council consultations meeting (April 17) to discuss the report of the UN Secretary General on the Sahara. The fifteen member countries of the Security Council will hold on April 24 another meeting to adopt a resolution extending the mandate of the MINURSO which expires at the end of the current month.
In his report, Ban Ki-moon, is to call for substantial negotiations on the Sahara and for conducting a census of the refugees in the camps of Tindouf, in southwest Algeria.
Now, is the Algerian power ready to make the effort to find a way out to this thorny issue? That is the question.