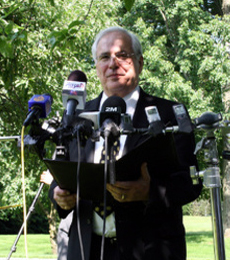 The new round of informal negotiations between Morocco and the Polisario on the future of the Western Sahara, did not bring any progress regarding the depth of the problem. It is the UN envoy for the Sahara, Christopher Ross who has made this statement at the end of the 9th round which took place between 11 and 13 March, in Manhasset, in the outskirts of New York.
The present delegations, has explained Ross in a release, have nevertheless been able to discuss the issues of mine clearance of natural  resources and evaluation of trust measures.
Concerning the real problem, that is the settlement of the conflict opposing Morocco to the Polisario Front supported by Algeria, Christopher Ross has assured as before, that each party has continued rejecting the proposal of the other party as a unique base for the coming negotiations.
A new thing, Ross has announced his intention to make a visit by mid-May, a tour in the region, during which he intends to make an official visit for the first time, to the Southern provinces of the Kingdom. He even announced that the two coming rounds will take place in June, in Europe, and in July in a place to be defined.
On his side, the Minister of Foreign Affairs and Cooperation, Saâd Eddine El Othmani was a little more verbose than Ross by stating in front of the journalists present in Manhasset that Morocco is moved by "a strong willingness" to contribute, in an efficient manner, to reach an innovative solution to the dispute opposing it to the Polisario.
«  I wish to reiterate here that Morocco is really concerned by finding an innovative solution which goes far beyond the classical solutions" has declared El Othmani during a press conference hold on Tuesday at the end of the 9th round of informal negotiations about the Sahara.
All the same, till today, the informal negotiations, and despite of the holding of a series of nine rounds, did not allow the concerned parties to make any concrete progress towards a final settlement despite of the efforts made by the UN Security Council, to reach a mutually accepted solution. But each one of the parties continues sticking to its position. Something which did not prevent  El Othmani from showing his optimism "concerning the future". The positive regional mutations, he supports, require from all the parties to change their classical perception and to proceed according to an innovative approach, something which Morocco is getting down to.