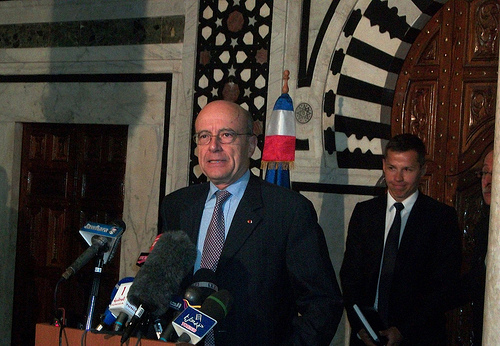 Paris like Washington remains loyal to its position about the Western Sahara issue. The French Foreign Affairs Minister, Alain Juppé who is about to pay an official visit of two days to Morocco, has reaffirmed this Wednesday that the Moroccan autonomy plan constitutes the "unique realistic proposal" for the settlement of the Western Sahara conflict within the frame of the United Nations.
We still think, he stated, that the Moroccan autonomy plan, which is today the unique realistic proposal on the table constitutes a credible and serious basis for a solution to the territorial conflict opposing Morocco to the Polisario Front. In the same context, the American State Secretary, Hillary Clinton, who was last month, on a tour to the Maghreb countries, has, during her passage to Rabat, qualified the Moroccan proposal,  of  being "serious, credible and realistic, while pleading for a mutually acceptable solution.
Alain Juppé who is expected tomorrow Thursday in Rabat for a visit to Morocco, since the constitution of the new government of Benkirane, believes that this issue which is tackled within the United Nations, should not be "a hindrance to the process of rapprochement between Morocco and Algeria. "It seems to me that this is the way chosen by the leaders of these two countrie, and we can but encourage them", has declared to the Press Arab Agency (MAP), the chief of the French Diplomacy. The media declaration of the French Minister comes before the holding, from 11 to 13 March, in Manhassat, near New York, of the 9th round of informal negotiations on the Western Sahara under the aegis of the UNO. Despite of the clearness of the French and American visions and the seriousness of the Moroccan proposal for a large autonomy for the Sahara, the Polisario separatists, supported politically and financially by the Algerian authority, continue rejecting the autonomy plan and sticking to the fanciful dream of self-determination through a referendum, judged nevertheless to be "impossible to realize",  even by  the former personal envoy of the UN Secretary General, Peter Van Walsum.