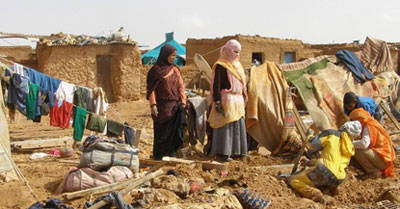 Despite of the black-out imposed on the camps of Sahrawi refugees in tindouf in the South-West of Algeria, some information was leaked from time to time about the chaos prevailing since a long time in this non-law land. The last news which have reached us from the Hassi Rabouni camp hosting the Polisario leadership HQ, state the existence of many confrontations between the armed militia of the separatists' movement and the young idle Sahrawis who have been attacking these last days the structures of the Polisario leadership including the bureau of its held for life Chief Mohamed Abdelaziz. The young protesters, who have been waiting for a long time for the first glimmers of hope for their future which take time to come, have decided, after having lost totally their trust in their present leaders, to require more or less the immediate departure of Mohamed Abdelaziz, Chief of the Polisario front and President of the said Sahrawi Republic "SADR". The information was confirmed Saturday by the international agency Misna, on its Italian line.
This attack is revealing the exacerbation felt particularly by the  young Sahrawi generations because of the absence of any progress in negotiations held with Morocco, comments the correspondent of this agency, specifying that the confrontations having taken place on Saturday 11 February, in front of the headquarters of the Polisario in Rabouni, have ended with the arrest of three young protesters.
During a previous demonstration four days later, the young Sahrawi attackers have claimed the release of their three arrested companions belonging to a reformist group calling for change within the Polisario leadership and the resignation of Mohamed Abdelaziz. The latter has given firm orders to his militia not to allow the access of foreign journalists and media who are in Tindouf, to the place of demonstrations so as to avoid any leak of information on the confrontations having opposed the security forces to the demonstrators. The leadership of the separatist movement is afraid that such information would not be in its favour at the time the resuming of informal negotiations is announced to take place from 11 to 13 March, in Manhasset, in the suburbs of New York.