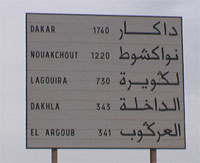 Since several weeks, the direction of the Polisario Front who runs the camps located at the South-west of Algeria, would have decided to restrict the population displacements fearing that some sahraouis would join Morocco.
According to several concordant testimonies, a rebellion would have taken place in the sequestered-camps called "27 Febrero" following a quarrel with the management of the Polisario Front concerning the "passes" to Tindouf.
The revolutionary movement fears hemorrhage which would be likely to put it in weakness position before the resumption of negotiations with Morocco to be held next March in the suburbs of New York.
In this tremendous game of billiards with three bands including Algeria, Morocco and the Polisario Frente,the big losers remain unfortunately the sahraouies populations sequestered in the camps of Lahmada whom free will have been confiscated by the revolutionary movement.
This conflict, in everyone's opinion, is one of the last substitutes of the cold war and the regional challenges with the rise of globalization are more and more present. It is incomprehensible that such hold up between nations who have a lot in common remains. The challenge for Algeria and Morocco will be to overcome their differences and to develop the great Maghreb.