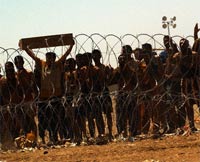 Since the publication of the «
Release of Slave
" document by Spanish newspaper "
Canarias 7
", the slavery in the camps of Tindouf is making headlines.
The document was obtained from a Tindouf court which officialized the release by the Polisario Front of two slaves. The black slave trade in the Polisario camps has became intolerable for the Sahraoui populations who cannot ignore any more the discrimination exerted against some black people. According to several concordant sources, the slaves will organize a pacific march to assert their right to freedom.
Mauritania has adopted a moratorium prohibiting slavery
and the
Polisario Frente is not taking any measures
out of fear of the "directing" families who take advantage of this system and who represent the conservative branch of the inhabitants' camps.
Indeed, if one can find all kinds of historical and cultural reasons to this established fact, it is intolerable, that in 2008, discrimination by the skin color which determines fate of a human being until the end of its days, still exist.

While being born slaves, the black populations within the Tindouf camps, managed by the Polisario Front with the military and logistic support of Algeria, did not even know the concept of free will, or even of "self-determination» which is the leitmotiv of the Masters of Algiers.
It is an unworthy and intolerable situation, whose international community starts to become aware of even if the doors of the sequestered camps remain hermetically closed. Until when? If the very powerful STASI, secret police of East Germany had not succeeded in predicting the fall of the Berlin Wall, how will the Polisario Frente political police chiefs predict the suppression of the barbed wires surrounding the camps?