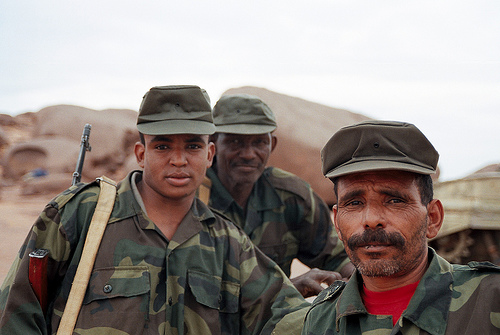 The imminent fall of Kadhafi's regime has announced commotion inside the Polisario. Till the last minute, Tindouf general staff still hopes for a turnaround of situation in favour of their old friend and provider of arms and foreign currencies. But the putting into effect of rebellion in Tripoli and the quick evolution of the events has killed the last hope for the Polisario leadership.
To understand the sorrow of the Polisario leaders for the fall of Kadhafi's clan, we have to go back to the 70s. At these times of ideological friction between East and West, the Libyan Guide provided Polisario troops with arms. The unpredictable head of Tripoli was letting himself share the roles with Algiers, dreaming to make Polisario destroy the Moroccan regime. Three decades after, the common objective of Algiers and Tripoli, through Polisario, seemed more illusive than ever, but the grants continue thanks to the inexhaustible oil godsend.
It is the weight of this debt which has pushed Mohammed Abdelaziz to flight to help a Kadhafi in desperate facing the popular rebellion. Since the beginning of violence in Libya, Polisario did not need a lot of persuasion to send hundreds of mercenaries fight on the side of the Guide. From their bases in Tindouf camps, in the Algerian West, Polisario mercenaries were escorted till Libya under the control of the DRS, the dreadful Algerian military  intelligence services. This game did not go unnoticed. Reports from NATO, crosschecked by Western media, have quickly revealed the participation of a great number of persons from the Polisario, at the sides of the groups faithful to Kadhafi. Finally, the shattering declarations of Seif Al-Islam, the overactive son of Kadhafi, have taken the last doubts existing on the involvement of Algiers in helping the boss of Tripoli. Seif Al-islam could not be more loquacious in declaring to the Algerian daily Al Khabar that "Algeria has been constantly a faithful ally to Libya, on the opposite of other Arab countries which positions are unworthy".