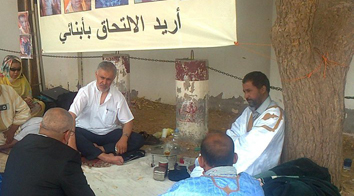 The case of the Polisario dissident Mustapha Salma illustrates the denial of the most basic rights of the Sahrawi populations which continue being flouted. Forced back from Tindouf camps in the Algerian territory, simply for having expressed publicly his support to the Moroccan autonomy plan for the Western Sahara, Mustapha Salma continues paying a heavy cost for his audacious gesture. Today, he is leading  a determined struggle to return to his children in Tindouf camps. But he is not alone. A burst of solidarity is being constituted around the Polisario former executive who carries on his protest sit-in in front of the HCR headquarters in Nouakchott.
Many NGOs have demonstrated in Casablanca to support the struggle of Mustapha Salma who continues protesting since the First of June in the Mauritanian capital. At present, he asks the HCR which has received him from the Polisario and accepted to transfer him temporarily to Mauritania, to complete its mission. The latter puts pressure on the Polisario and Algeria, as the hosting country, to authorise Mustapha Salma to join his children in Tindouf camps, according to the organizations of Human Rights Defenders. The latter intend to launch an international solidarity campaign with Mustapha Salma. Their objective is to make aware the public opinion, NGOs and international media and to mobilize them to support the humanitarian case of Mustapha Salma.
Through the dramatic situation of the dissident Mustapha Salma, the human rights defenders aim also to shed light on the situation of thousands of other Sahrawis. Children, women and men deprived of the simple right to freedom of movement and expression. Trying hardly to survive in the desert, they are kept in this dreadful situation since more than four decades. But despite of the merciless domination of the Polisario and the interested complicity of Algeria, they resist bravely so that their destiny is not reduced simply to serving the political agenda of Algeria in the region.