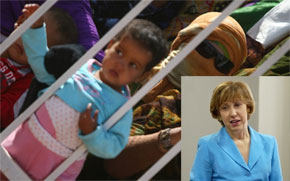 The absence of justice and legal provisions, created by Polisario in complicity with the Algerian authority in Tindouf camps, have left the way free to the policy of the worst, to excessive torture and forced disappearances. It is the statement of the American lawyer, Me Leah Farish, who maintains that the deterioration of human life conditions in these camps which are characterized by the pro-slavers practices, has allowed the extremist ideology to get extended, and transformed the populations of Sahrawi refugees into a source of recruitment for the emirs of Al Qaida and the latter's extensions in the region.
In Tindouf camps, she assures in an editorial published in « impunity Watch Law Journal » edited by US University of Syracuse, justice does not exist, leaving free way to "forced disappearance, to torture and separation of families".
In its analysis, Me Leah Farish tackles also the issue of children education, the weak link of this population which the separatist movement leaders do not hesitate to use as an exchange to maintain on the spot the families wishing to leave this hell and join their homeland, Morocco.
The teaching in Tindouf camps, was « leading astray of its noble purpose to become a tool for propaganda which only aim is to inculcate to innocent children the hate of Morocco and America", said indignantly the writer of the editorial, pointing out the setting up by the separatists leaders of a repressive system which raises the unique thought to become a doctrine for governance.
"Thousands of children, she specifies, were sent, with only their bodies to defend them, to the camps of ideological education in Cuba, in Algeria and in Libya, while the children of the Polisario leaders go to European schools and universities ».
This situation, she explains, has for effect to «  undermine the moral of the populations » which only dream is to join Morocco, and escape from abject life conditions, become more unbearable because of the systematic misappropriation of humanitarian aid sold in black markets in Mauritania, Algeria and elsewhere.
To face these claims of the disarmed populations describing more and more such injustices, the Polisario militia opposed "cruel and peremptory discipline".
Leah Farish notes, moreover, that the Tindouf populations are illegally sequestrated in the camps by the Algerian authority regardless of the international law. Worse than that, she points out, Algiers authorities do not allow to these same populations to get identification documents, which deprives them from freedom of movement and work licence in violation of chapters II and III of the Geneva Convention and the Protocol of 1967. So much violation of the fundamental rights of a population without defence. Such violation constantly denounced by international NGOs in the five continents.