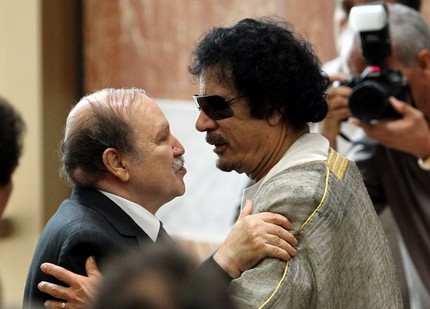 Polisario is maltreated at all levels these recent times. The last disappointment for the separatist front was brought up by revelations of certain persons close to Kadhafi who have deserted him. The latter confirmed the presence in Libya of Polisario mercenaries fighting at the colonel's side.
The information revealed by a former supporter of the Kadhafi clan, who took the side of the rebellious people, gives details about the transaction regarding the recruitment of hundreds of Polisario mercenaries. After the British daily newspaper, the Daily Telegraph, it is the turn of Washington Post to confirm that these details were handed over to the NATO executives. The entry of mercenaries into the Libyan territory was made easier by an intermediary, Yeslem Beissat, former ambassador of Polisario in Algeria, who shares very deep friendship with some people from the Algerian military intelligence services (DRS).
Before these revelations, Ali Errishi, a former Libyan Minister who has joined the rebels, as well as other leaders of the rebellion who have themselves stated that the Polisario mercenaries are among the groups fighting with Kadhafi. These revelations show also that the Libyan dictator uses all his allies in the region to gather the maximum of mercenaries. Certain come from Niger, Chad and the Sudan where colonel Kadhafi had great control before the beginning of the revolution in Libya.
For the Washington Post, these mercenaries who are already suspected of serious abuses against the civil people and war crimes « should undergo the same treatment as the other terrorist groups ».
After the Sahel and Sub-Saharan strip where networks of terrorists have settled their back bases, sowing terror, the persistence of the Western Sahara conflict added to popular revolts in many Maghreb countries, North Africa finds itself today the coming target of the terrorist cluster.
The non-resolution of the Western Sahara conflict threatens the security in North Africa, warns Peter Pham, Director the Michael S. Ansari centre, reporting to the Atlantic Council, a centre for research and strategic studies, based in Washington. According to an American researcher, it is of the utmost importance "to stabilize the region before Al-Qaida in the Islamic Maghreb confirms its alliance with the Polisario". "Polisario members have close relationships with South American drugs traffickers and cartels and are making of the region (North of Africa) a large space of Non-right, favourable for the proliferation of terrorist and criminal activities", has warned Peter Pham, a real expert in security questions in Africa.