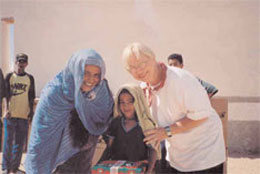 The precariousness of life conditions and the absence of basic liberties in Tindouf camps, at the South-West of Algeria do not leave anybody indifferent. An American NGO has just questioned the UN Secretary General, Ban Ki-Moon about this issue, on the occasion of the reviewing of his report by the Security Council in New York. "Teach the Children International" questioned Ban Ki-Moon, about the atrocity of life conditions of Sahrawi populations in Tindouf camps. The NGO drew the attention of the UN Secretary General, particularly, to the "negative" repercussions of depriving these populations from their most basic liberties.
"We request your support to act against life conditions' austerity and the negative repercussions of depriving men, women and children living in Tindouf camps from their basic liberties, underline the president of this NGO, Nancy Huff.
The Sahrawi populations, she deplored, « suffer from human rights abuses and do not have the right to leave the camps. They are deprived of any liberty of movement (…) regardless of Geneva Convention of 1951 and the Protocol of 1967, which are, yet, signed by Algeria". Tindouf camps are led, she said, by a "small group of persons who are exercising a totalitarian power over the populations since 35 years".
Teach the Children International, a humanitarian non profit-making organization which says to be concerned about the destiny of the families which have been separated from their relatives and from their homeland and which sufferings keep increasing. The NGO president calls the UN SG to intervene so that "these sufferings cease, allowing the Sahrawi populations to freely choose to regain their homeland Morocco". The Security Council, she recommends "should give account of the advantages offered by the Moroccan autonomy plan and its prospects", such a plan which is supported, among others, by the United States and France. This proposal, reminds the NGO, was recently qualified by the US State Secretary, Hillary Clinton, of being "serious, credible and realistic" and the former personal envoy of the UN General Secretary, Peter Van Walsum has concluded that the option of independence was an "unrealistic" objective.
Nancy Huff who went to Tindouf camps and the Southern provinces of Morocco states that the Moroccan autonomy project offers also « the opportunity » to put an end to a conflict which has too much lasted. She said finally, to be convinced that « the future of the Sahrawi populations resides in their country of origin, Morocco".