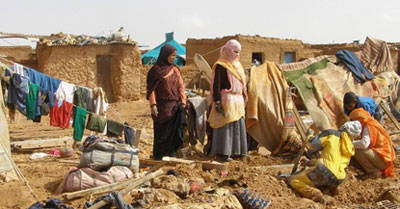 All the elements are present in Tindouf camps for the explosion, at any time, of a popular revolt against the Polisario chief, Mohamed Abdelaziz and his auxiliaries. Thousands of young unemployed Sahrawis in Tindouf camps are calling these last days, in internet debate forums, to a revolution against the Polisario, following the Tunisian and Egyptian models. After the fall of the dictatorship in Tunisia and Egypt, the Sahrawis internet surfers make part, through many web sites, of their concern about the Polisario junta facing the possible change in Algiers regime.
The Sahrawis follow "the wave of revolutions in North Africa and the Arab World "with jubilation and worry", has indicated the Afrol News portal  (African News Agency), pointing out that this wave of revolts is, each day, growing closer, to Tindouf camps.
The portal reminds in this context, that Robert P. Jackson, the Chargé d'Affaires, at the American Embassy in Morocco, has indicated in 2009, that Morocco knows « a real political dynamism » and is, far away more open than the Cuban system established by Polisario in Tindouf camps.
Since the agreement reached, under the UN's aegis in 1991, about the ceasefire at the Western Sahara, thousands of young Sahrawis who were enlisted in the separatist movement army, found themselves from one day to the next, without any job. For them, time has come to claim the settling of accounts to the Polisario leadership about the destiny of the international aids and the future of the Sahrawi young people.
The march which was planned for the 12th February in Algeria and which was suppressed in Algiers by a strong raid of 30 000 policemen who have barricaded all the ways to get access to the capital, has but fed the worries of the Polisario leaders of losing their main ally and suppliers of Algerian funds.
On the other hand, the young unemployed Sahrawis and their families living in conditions about which the least we can say is that they are precarious and inhuman, are dominated by a feeling of revolt and anger.
Some Sahrawi bloggers who have pointed out many similarities between the fallen regime of Hosni Moubarak and that of Abdelaziz Bouteflika, state that the days of Bouteflia's regime "are counted". The same bloggers do not hesitate to call the Tindouf camps inhabitants to follow the example of Tunisians and Egyptians to bring down Abdelaziz and his junta.
The Sahrawis in Tindouf camps say to be convinced that the future of the Polisario leadership is inevitably linked to the regime of Bouteflika, if the latter falls, the first one would follow ineluctably.