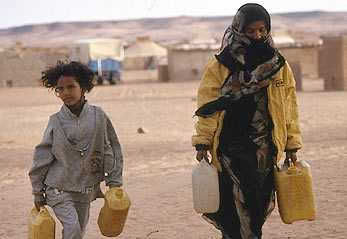 Morocco and the Polisario are preparing to resume informal negotiations, on the 21st January in New York, under the UN aegis, in order to find a solution to the Western Sahara issue. But the problem of thousands of Sahrawis who remain sequestrated in hard conditions, inside Tindouf camps in Algeria, remains unsolved. Forbidden from the right to freedom of expression and movement, they are waiting for more than 35 years for a solution to return to their country. Meanwhile, they continue reluctantly paying the consequences of the conflict between Morocco and Algeria through the Polisario.
Confronted to the protest of the young Sahrawis who are more and more appreciating the autonomy plan proposed by Morocco, at the image of the Polisario dissident Mustapha Salma, the separatist front increases its arrests and intimidations in Tindouf camps. A number of human rights organizations have expressed their concern about the case of imprisonment, torture  and disappearances in Tindouf camps. But what goes on really inside these camps in the Algerian desert has become difficult to bear due to the absence of international means of control. Even the HCR is desperately confronted with the flat refusal of Algiers to authorize the census of the populations.
Thus, Tindouf camps remain in fact inaccessible to NGOs and international independent media. At the same time, the Polisario leadership with the unconditional  Algerian support, keeps spreading an anachronistic speech about independence, such a speech which the young Sahrawis in Tindouf do not appreciate any more.