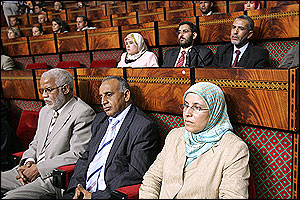 An outside hand was behind the troublemaking elements who have perturbed Gdem izik camp and devastated the city of Laâyoune on the last November, the 8th.  This is at least the conclusion reached by the investigation led on field by a Moroccan Parliamentary committee, and which results were made public on Wednesday 12th January. According to this Parliamentary committee which disclosed only very few details about its investigation, many indisputable proofs and indicators confirm the existence of close links between a group inside the Gdem Izik camp, Algeria and the "Polisario". The troublemakers were supervised, during repeated visits over the period of one year and a half, in Tindouf camps in the Algerian territory, specifies the same source.
In its report, presented at the House of Representatives, the committee has revealed that telecommunication means, of high technology, and the currency (Euros, Dollars, and Algerian Dinars) seized from the troublemakers, are a proof of the links which this group has with Algeria, the "Polisario" and other foreign parties, understood to be Spanish ones.
The investigating committee has raised also some questions about the origin and the party involved in the financing of the camp, the logistical means used to ensure a regular supplying with foodstuffs and fuel, the mobilizing of an important truck  and 4×4 cars fleet, phone cover and some donations in cash for the benefit of young people supposed to be looking for a job. The report mentions also the dysfunction which has prevailed during almost three decades, at the level of the local management, marked by the prevailing of favouritism in the distribution of advantages. These dysfunctions are among others, at the origin of the social claims and protests of a part of the Laâyoune population which was claiming the right to employment, housing and national mutual aid.
The committee insisted also on the necessity to put Laâyoune events in the international context at this date, marked by the visit to Morocco, of the UN General Secretary and his personal envoy for the Sahara, as well as the announcement of the coming session of informal negotiations on the Sahara conflict. Finally, the report underlines that the answers received by the committee about the necessary security cover in Laâyoune, following the demolishing of the camp were not convincing considering the importance of the damages and the seriousness of the acts of vandalism committed against the private and public goods.