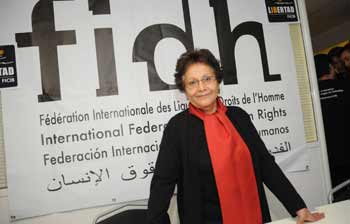 Deep anxiety, denunciation, condamnation, calls for release, are such qualifiers repeated like a leitmotiv, each time that the kidnapping of Mustapha Salma Ould Sidi Mouloud, inspector general of the Polisario police, is evoked. Since his arrest on the last  21st September, next to the border area, in Mhiriz, by the Polisario armed militia, most of the human rights NGOs, at the top of which Human Rights Watch and Amnesty International, have called the Algiers authorities, Polisario and international community so that this Sahrawi of Moroccan origin be released and allowed to rejoin his family in Tindouf camps.
Today, it is the turn of the International Federation for Human Rights, which declares to be very worried about the arbitrary detention of Mustapha Salma by the Polisario Front. Referring to their own sources of information, the FIDH gives in a release the detailed account of Mustapha Salma's misadventure, since his arrest till his imprisonment in a secret place. He was returning back from a journey in Morocco, during which, recalls the Federation, he has announced in last August, his support to the autonomy project in the Western Sahara as proposed by the Moroccan authorities, and his intention to lead a campaign in its favour in the camps for refugees.
The FIDH recalls also the words of certain Polisario leaders maintaining that Ould Sidi Mouloud should be court-martialled within twelve days, for spying on behalf of Moroccan authorities and for disclosure of secret informations likely to put the Polisario in a dangerous situation.
He risks between five and ten years imprisonment for each of these accusations. On the basis of informations which it has received, the FIDH is worried that the arrest and legal action against Mostapha Salma, aiming to sanction his right to freedom of expression and opinion.
Thus, it calls the Polisario to respect the international and regional standards in relation with human rights and to reveal Mustapha Salma's place of detention, to guarantee his right to life and physical integrity and impose his immediate release.