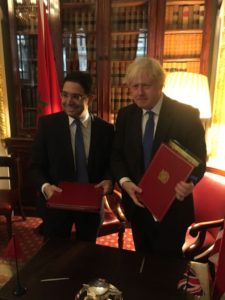 The UK's government said on Thursday that it has "taken note" of Morocco's "serious and credible" efforts to "move forward" towards a final political settlement of the territorial dispute over its Sahara. 
The British position was expressed in the framework of the Exchange of Letters, establishing the Moroccan-British Strategic Dialogue.
The dialogue started in London on Thursday, under the chairmanship of the UK Secretary of State for Foreign Affairs and the Commonwealth, Boris Johnson, and the Moroccan Minister of Foreign Affairs, Nasser Bourita, currently visiting Britain.
The two officials discussed on this occasion various aspects of bilateral cooperation as well as regional issues. they also tackled the Sahara issue.
In this vein, the agreement, in the form of an exchange of letters, states that "the United Kingdom has taken note of the serious and credible efforts made by the Morocco to move forward towards a settlement" of this issue.
Boris Johnson and Nasser Bourita discussed a set of other international issues such as air and maritime security and cooperation in the fight against terrorism. In this connection, London said it wants to "understand better the internal Moroccan system of intervention in crisis cases".  
Talks also covered issues relating to trade and investment, education, sports and culture.
In the run-up to its exit from the European Union, the United Kingdom seeks to diversify and consolidate its cooperation and trade with third countries outside the Euro area to offset the shortfall in the economy as a result to the Brexit of the Schengen area.
For Morocco, rapprochement with the United Kingdom, a world power and one of the five permanent members of the UN Security Council, would be very useful to its national cause and to its territorial integrity.