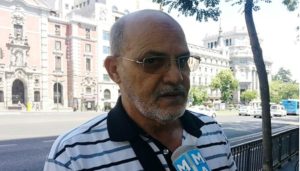 The Autonomous Government of the Canary Islands was once again questioned about the crimes and abuses committed by the Polisario torturers against the inhabitants of the Tindouf camps.
A detailed filed on these cases of torture and forced disappearances was transmitted on Tuesday to the Government of the Canary Islands. The file was conveyed by the president of the Association of the Missing at the hands of the Polisario (Association des portés disparus du Polisario / APDP), Dahi Aguai, himself victim of physical tortures while he was detained by the polisario.
In a letter attached to the file, a copy of which was sent to MAP news agency, Dahi Aguai reminds the head of the autonomous government of the complaint lodged with the Spanish Audiencia Nacional, the highest criminal court in Spain, against senior Polisario officials directly involved in serious violations of human rights in Tindouf camps.
The president of the APDP refers in his letter to the particular case of Mouloud Lahsen, who is settled in the archipelago, and asks the Canary Islands authorities to identify this torturer and bring him before justice to answer for the crimes he committed against the Sahrawi populations in Tindouf.
Dahi Aguai recalled in the same document that Mouloud Lahsen had been identified by his victims and witnesses during a hearing before judge, Pablo Ruz, of the Audiencia Nacional
The damning file includes photos of other torturers, of some victims of exactions and of missing Sahrawis, as well as photos of Spanish detainees who have disappeared in Polisario jails.
In December 2007, the Audiencia Nacional accepted a complaint against members of the Polisario Front, including its leader Brahim Ghali, and officers of the Algerian army, for "genocide, torture, forced disappearances, illegal detention and serious violations of human rights".